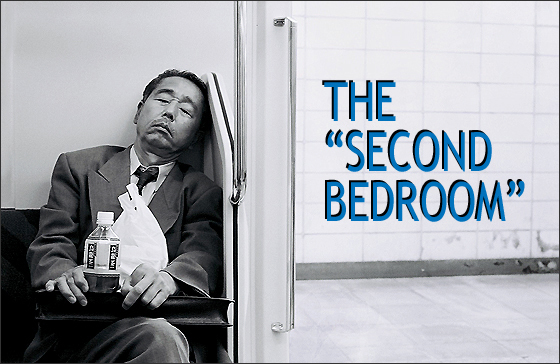 IMAGE LUMUMBA
AN
The Second Bedroom

A Photo Essay on J Sleepers

Location: Japan, Tokyo & Chiba Prefectures
Photographs by Image Lumumba
While working in Japan, I observed a large number of indelible cultural differences which were worthy of being represented in a photo series, but nothing was more arresting to me than the image of Japan's plainly dubbed (by foreigners) sleepers, Japanese citizens who sleep on commuter trains. 

A passenger falling asleep during a ride on a public transport train sounds like a nonevent, but in Japan,  it's quite often  a spectacle. That's due to the high ratio of passengers who are nodding per train car. 
See this series' galleries (below).
Every rider of public transportation is guilty of commiting an en-route nap. But in Japan, where commuter trains are the cardinal mode of transportation, being on a train containing numerous posed sleepers is common, and the sight can recall the terms "cult ritual" and "epidemic."

Ultimately, Japanese citizens simultane-ously dozing (individually and in groups) on moving trains makes for beautiful black-and-white photographs, and early results engendered the evaporation of post-snap guilt I had felt from serially trying to make portraits out of sleeping strangers. It wasn't always convenient; sometimes you'd be in a hurry or sleepy yourself.  But you couldn't lose the shot. Occasionally, you'd have to remain on a train a stop or two past your initial destination to get the shot.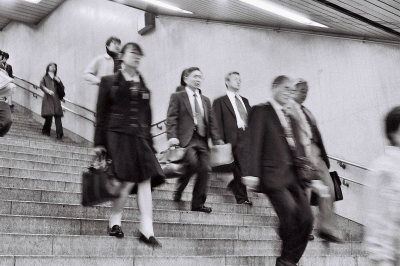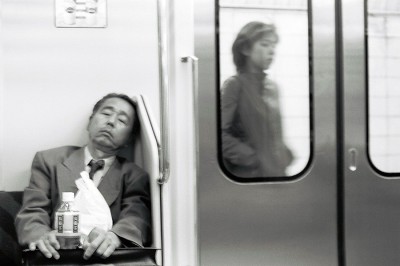 Turning In

.
Top
: B
edroom exterior 
Center
: Station 
fatigue march
Bot-
tom
: S
leeper and candidate. (IL)
Speed was essential because it always is when you take pictures and, naturally, sleeping passengers wake up. But my greatest enemy was the dreaded 'Japanese Inner GPS Phenomenon',  where the sleeping passenger you were seconds away from capturing amazingly snapped out of what had appeared to be a deep sleep and, like a gazelle, bolted through closing train doors.
And that's the point of this photo essay: these behaviors are Japanese, and cultual differences are oftentimes fascinating. The fact that my subjects were sleeping, per se, wasn't what interested me. Nor did/do I find sleepers humorous. What's striking is that you won't see this elsewhere; I was capturing something I had deemed remarkable about the country. The Japanese work hard, an average of 14 hours daily. Their ubiqitous (they can actually fall asleep anywhere) public sleeping may be a by-product of that.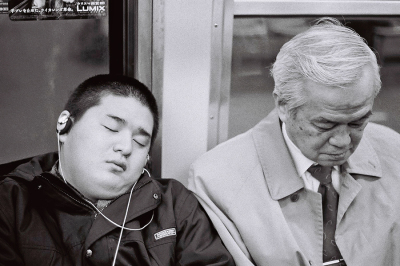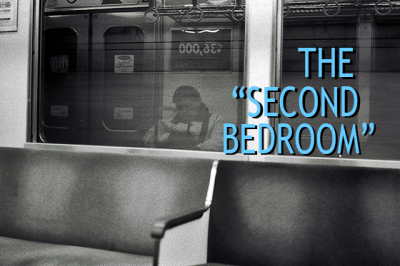 "Now is Comfort
."
Top
: Sleepers, generations
Bottom
: Promo card #6. 
(IL)
It took time for me to come to that conclusion, however. Prior to doing so, I asked countless Japanese citizens I had worked with or befriended why so many people slept on the trains. A sentence from one woman's reply was unforgettable: "The train is my

second bedroom."

There are four 18-photograph galleries to The Second Bedroom. If you click inside any of the galleries' photos, a slideshow template will open. Otherwise, click on any of the numeric buttons to view larger sized photographs.